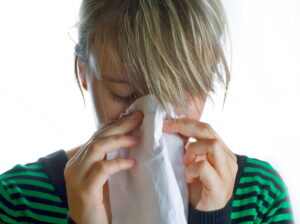 The quality of air in many homes is much worse than it should be. This isn't because polluted air from outside is moving inside. It's because too many pollutants indoors are trapped there, with scant circulation of fresh air to remove them. This is an unfortunate side-effect of the improvement in home construction to make houses more energy efficient. The tight construction limits the ventilation that removes the concentration of pollutants.
The Pollutant Sources
"But where are these pollutants coming from?" That's the big question. There's no single answer because there are a range of sources for indoor pollutants that lower the quality of the air in a house. Below we're going to look at some of the most common.
Appliances the combust fuel
If you live in a house that uses natural gas for cooking, heating, and other tasks, that is one of the main sources for harmful chemicals. True, you aren't dealing with a toxic level of carbon monoxide (you have CO detectors to warn you if this is the case) or other gases, but they still have long-term health effects.
Building materials
Many modern materials used for the construction of homes have potentially harmful chemicals in them that will enter the house. An older home may have asbestos in it. Pressed-wood, which is much more common in homes today than even ten years before, often has chromated copper arsenate (CCA) in it, which contains arsenic, chromium, and copper, all of which can create health problems.
But the most common harmful chemical found in building material is formaldehyde—which also can result from combustion and cleaning products. Formaldehyde is often found in particleboard, hardwood paneling, and fiberboard.
Cleaning/Hobby/Personal Care Products
A large number of volatile organic compounds (VOCs) arise from these materials that can be found in almost every household. VOCs include numerous chemicals that can affect people's health in both the short and long-term.
Mold
Yes, you may have mold hidden somewhere in your house, possibly in the ductwork or located under floorboards where excess moisture has allowed it to grow. Toxic mold spores are a significant danger in homes where mold is growing.
The Horror! What Can I Do About This?
You're probably not likely to tear out all the walls and throw away every cleaning supply you have and then stop using your gas stove. But although you don't have many options for reducing these sources of air pollutants in your house (aside from mold and asbestos remediation), you do have options for better indoor air quality in Modesto, CA when you work with us. We offer numerous IAQ solutions, including:
Air filters and air purifiers to remove contaminants.
UV air purifiers to target organic pollutants, including mold spores.
Heat and energy recovery ventilators, which allow for fresh air circulation without a loss of energy efficiency in the house.
Dehumidifiers to remove the source of mold growth.
Duct sealing and repair to improve ventilation.
Get in touch with our professionals, and they'll get started finding out exactly what your house needs for better, healthier indoor air quality.
Your home should be a breath of fresh air. With Greenhart, you can Live Green, Save Green!