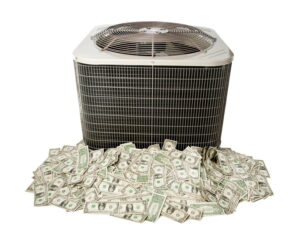 At Greenhart, our motto is "Live Green, Save Green!" We're more than a company offering standard service for air conditioners, heaters, insulation, and water heaters. We specialize in finding ways to help customers save money with equipment that also helps the environment thanks to high energy efficiency. We can help you solve problems you may have with inefficient home equipment performance.
And since it's now officially summer, the time is right to address troubles with rising home cooling costs. You may not realize it, but the air conditioner in your house consumes more electricity than any other appliance (unless you have an electric water heater). The average AC uses 3,500 watts per hour to run. A clothes dryer uses 3,000 watts per hour and a ceiling fan a mere 100 watts. When you see your electricity bills start to go through the roof in summer, the likely culprit is the air conditioner.
Let's take a look at why those costs may be skyrocketing and what we can do to help.