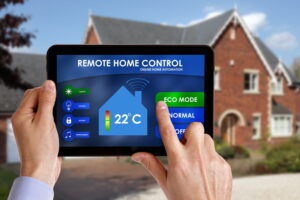 What type of thermostat do you have to control the climate in your home? If you have a basic dial thermostat or one that uses manual sliders, that might seem like all that's necessary. What's wrong with going with something simple as long as it works? 
But the truth is that older thermostats can mean lower energy efficiency in your house, and we can use the coming winter as an example. There are many great options for new thermostats in Modesto, CA if you want to make the change to climate controls that help you cut down on energy expenditures in winter without missing out on comfort.
The Efficiency of the Modern Thermostat
Today's thermostats can be extremely advanced: Wi-Fi "smart" thermostats take care of the work of keeping a home comfortable without much input from the homeowner. They can also be controlled from almost anywhere through their Wi-Fi connection: from a tablet, a computer, a smartphone. This makes them extremely convenient. But how do they make for better winter efficiency?
The EPA has made studies of the improvement in energy savings for homes that switch from manual to programmable thermostats. They found that on average a home reduces its energy usage over a season by 5–15%. Just going digital improves the precision of the thermostat, but programmability allows a homeowner to adjust temperatures automatically, even when they aren't home, and to automate lowering the temperature at night when there's less need for heat. Factor out basic human error with settings, and the improvement is significant. You can program the thermostat for 68°F during the day when you're home and have it lowered to 60°F at night, or program it to come on a half hour before you get home. 
Now consider using an advanced smart thermostat. This type of climate control learns from your programming and your house so it can create its own changing program that matches your needs while maximizing energy efficiency. Smart thermostats even provide you with reports so you can see how much you're saving. You'll also add life to your heating system because there will be less strain on it.
There are also the environmental benefits of using improved thermostat technology. This is something we take seriously at Greenhart, because we want to help our customers save energy and also live greener. Thermostats reduce energy consumption, which helps the environment. They also do not contain any mercury like old thermostats, which is toxic to add into landfills.
Making the Upgrade
Something we want to caution you about: only professionals can install an advanced thermostat for an HVAC system. You cannot purchase one online and then attempt to install it, and you can't have a professional install one you purchased yourself. The new thermostat must match the HVAC system. The advanced algorithms in the thermostat may damage older HVAC systems. Leave the job of selecting the new thermostat to the professionals so that you'll have the ideal match between the controls and your heating. Our team is glad to help you find the best new climate controls so you can save money this winter and in every season.
Look to Greenhart in Modesto, CA, for energy-saving options for your house. Live Green, Save Green!