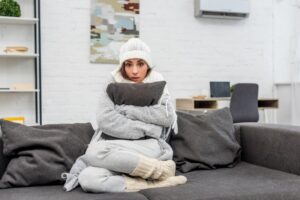 Are you about to enter winter with uncertainty about what kind of shape your heating system is in? We know that it's sometimes hard to make the decision about when it's time to replace an aging heater. Committing to a purchase like this and spending the kind of money it takes is no small thing.
You want to be sure that you don't replace your heater before you actually need to. After all, wouldn't it be a waste of money to make an upgrade otherwise?
Well, honestly, today's heaters are even more efficient and powerful than systems made even just less than a decade ago. We've provided some signs below that it may, in fact, be time for you to consider a new heater.
Your Heater is Old
How old is your heating system? It depends on the manufacturer and the type of heating system you have in place, but if we're talking about a furnace or a heat pump then you can expect the system to last until about the age of 15 before it starts experiencing major problems, as long as it is well cared for before then.
By this age, it's a good idea to start considering an upgrade even if you aren't experiencing major problems. Heaters can't last forever, after all, so if you're trying to run yours way past its prime, it is probably time to say goodbye.
You Need Repairs Constantly
How many times have you needed to call for heater repairs over the past few years? You should not have to repair your furnace too often. If you are, then you are likely looking at a system that needs to be replaced. This is particularly true if we're talking about an aging heater (see above!) In any circumstance though, constant repair needs is never a good sign.
You Hear Funky Noises
If you hear anything that resembles rattling, banging, grating, humming, squeaking—anything that you don't normally hear from your heater when it's running—then it's a sign that something is wrong with your heater. It might be a repair need, but we implore you to keep the above two tips in mind.
If you're hearing these noises coming from an aging system, and this aging system has had a lot of repair needs lately, it's probably time to consider an upgrade. Ignoring noises can actually lead to a hazard. For instance, if you hear hissing in a furnace it may be the sign of a cracked heat exchanger leaking carbon monoxide gas into your home, which is never a good sign.
Your Airflow Is Suffering
Is the air blowing into your home from your heater vents not as powerful as you think it should be? Or perhaps it's not as warm as you think it should be? If you have low airflow or lukewarm air blowing into your home, it's definitely a sign that something is wrong with your heater, and an upgrade may be in the cards.
Contact DeHart Plumbing, Heating, and Air Inc. for expert heating services in Modesto, CA.