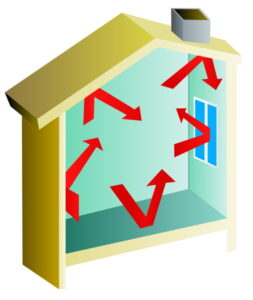 Proper home ventilation is on people's minds more. Too many houses today have limited ventilation to allow for the proper movement of air and to allow fresh air to circulate. This poor ventilation is one of the main causes of bad indoor air quality, which has been on the rise over the past few decades. 
At Greenhart, our goal is to help our customers enjoy the best quality of living in their homes thanks to better indoor air quality—and helping their homes achieve energy efficiency at the same time. There are steps you can take to help with better fresh air ventilation, such as opening multiple doors and windows and remembering to use exhaust fans in the kitchen and bathrooms. But we have several ways to better your ventilation and improve your home's indoor air quality in Modesto, CA.
Energy and Heat Recovery Ventilators
These devices allow for fresh air circulation through a home without also causing heat loss or heat gain that will affect energy efficiency. Opening up windows and doors brings the outside temperatures with it, but energy recovery ventilators (ERVs) and heat recovery ventilators (HRVs) solve this problem. They draw fresh air into the HVAC system and use the air from indoors to either pre-heat or pre-cool it. This can recover 80% of the energy that would otherwise be lost to opening up windows and doors. There are differences between the two types, and we'll help determine which one is best for your home.
Duct Sealing
Your house may have problems with leaky air ducts without you even knowing it. Duct leaks are common issues, and they can throw off air circulation for the whole house as well as cause the AC and heater to waste power. We recommend you schedule duct testing with our team if you aren't certain about the condition of your ducts. We'll discover if you have duct leaks and how extensive the problem is, then use advanced techniques to make the ventilation system airtight once more.
Duct Cleaning
After three to five years, the ducts in your home will have picked up enough dust, lint, and other debris on the walls that it will interfere with proper airflow and ventilation. Professional duct cleaning can restore the ducts—just make sure you have actual professionals like our team to do the job. There are many low-cost "duct cleaning" services that do next to nothing at all. You can expect the best from us.
Air Filters
You already have an air filter on your HVAC system, but it isn't there to help with the indoor air quality; it protects the interior of the cabinet. If you want to have healthier air circulating through the house, you'll need to have professionals install powerful pleated or media filters into the ductwork. These filters will remove dust, lint, dander, dust mites, and more. You will need to change the filters every few months or else they will start to block proper airflow.
Talk to our experts today for great IAQ solutions. At Greenhart, we help you "Live Green, Save Green!"