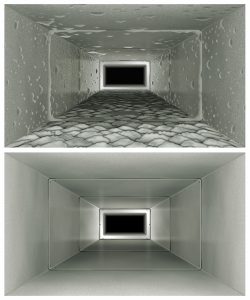 We offer many superb services at Greenhart to help people enjoy greener homes and energy-saving homes. A big part of that is helping houses improve their ventilation system. It's easy to underestimate the importance of the "V" (ventilation) in "HVAC," but problems with the ductwork in a home have a huge negative impact on energy efficiency and the quality of the household air.
This is where duct cleaning is a vital service. It's not a minor luxury—we offer it because we know it is important.
The Benefits of Regular Duct Cleaning
Duct cleaning should be done every 4 to 5 years unless there are special conditions that make it necessary to schedule the service more frequently. (Our team can help you with making this choice.) If you haven't had the ducts cleaned before now, you're probably overdue. It's worth the time—that is why we explained is why this is so beneficial a home service:
Improved IAQ: Here's a fact to put your ductwork in perspective—the average six-person house will circulate 40 lbs. or more of dust through the HVAC system each year. The ductwork is essentially a reservoir for all these particles, which not only includes dust but a whole slew of other allergens and asthma triggers, such as lint, dander, and dust mites. You can clean your house thoroughly and still miss most of the dust because it's hiding in the ducts. Duct cleaning gives the whole house a fresh start.
Improved HVAC Efficiency: One of the leading sources of heating and air conditioning losing energy efficiency is because of clogged ducts. Even a thin layer of dust places resistance against airflow that will force the blower fan to work harder. If you haven't had duct cleaning in five years or more, you are paying too much to run your HVAC system.
Extended Equipment Life: Aside from the strain that dust in the ductwork places on the HVAC system, it will also lower its service life. Not only does it wear it down faster from extra labor, it will also start to infiltrate the AC and heater and damage components.
Duct cleaning doesn't have to be a chore for you. You only need to call our experts for duct cleaning in Modesto, CA, and they'll handle the service. We'll have it done before you know it.
Beware the Amateur "Duct Cleaning" Offers!
One reason customers can be cautious about duct cleaning services is that deceptive "contractors" will try to sell people on duct cleaning services that are wastes of money. If someone calls you offering to clean your home's ducts for a "low, low price," it's probably nothing more than a quick vacuum service that does nothing to improve your ducts' condition and will do nearly zero for the health of your household. You need specialists like our team: we are fully NATE, Green, and EPA-certified, and we won the 2015 Momentum Award from Build It Green. You can put your trust in us to help you enjoy better health and better household energy efficiency.
Live Green. Save Green. Greenhart serves Modesto, CA with the best in healthy indoor air quality services and energy-saving solutions. Call today to schedule duct cleaning.