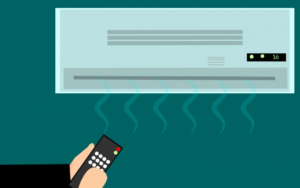 The air conditioner is one of the most important parts of your household. The summers can get pretty hot here, and you rely on the HVAC system to keep the entire family cool and comfortable.
If your AC has been giving you trouble for a long time, there is a chance you might have to replace it with a new unit. Investing in a new AC is a major decision. Nobody wants to let go of something that has worked so diligently to protect them from the searing heat. Of course, changing your AC at the first sign of trouble is not an economic decision. Perhaps it just needs another quick repair.
If you are not sure whether you need to get a new AC, we can help you figure it out. We will discuss a few of the signs that suggest you should say goodbye to your old unit. And if you need an HVAC contractor in Modesto, CA, because the time has come to replace your AC, you can always contact us.
Here's When You Might Need to Get a New AC
Here are the most obvious signs that you need to get a new AC:
Your AC is ancient
Ancient is a subjective term. When it comes to your AC, ancient would be a unit that you have had for more than 15 years. Older ACs were built to last, but they have an effective lifespan of 10-15 years. If your air conditioner is older than its average life expectancy, you should consider getting a new and more efficient unit.
The AC requires frequent repairs
It is completely alright if you need to schedule AC repair services every couple of years. However, you should not need to call in a technician several times a year. If you are spending 50% of the cost of your AC for its repairs, it could be better to get a replacement.
It is not cooling anymore
The reason you have an air conditioner is to keep your home cool and comfortable when the temperature rises. If your AC is taking longer to cool your home, or its performance just is not what it used to be, you might need to consider replacing it with a new unit.
Your energy bills keep rising
One of the most obvious signs you need to get a new AC is the energy bill. When an air conditioner ages, it becomes inefficient. It might require more energy to keep your home cool. Keep a check on your energy bill. If you notice it rising consistently, your AC is no longer as efficient as it used to be. Investing in a new AC might cost you a fair amount, but it will lead to substantial long-term savings.
Call a Professional to Install the New AC
If you feel that you are ready to get a new AC, make sure you contact us, your local HVAC professional, to come and handle the replacement. Buying a new AC is a huge investment, and you might want to make sure that the installation is done properly to protect your investment.
Schedule Service with DeHart Plumbing Heating & Air Inc. Today!