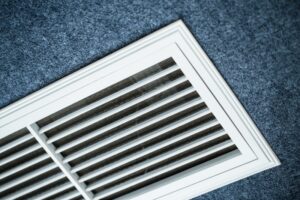 The ventilation system in the walls and ceilings of your house is often neglected as part of the overall comfort system. People focus on the heating and air conditioning, but ventilation misses out on the upgrades, tests, and repairs it needs.  A poor ventilation system can ruin the best AC or heater, create massive energy waste, and harm indoor air quality. 
What can you do about it? In fact, is there anything wrong with your ventilation system?
We can answer the second question easily with duct testing services. This will give us the data about the state of your ventilation system we need to know so we can decide what else needs to be done. Below are three major services we offer to improve your ventilation system.
Duct Cleaning
The ductwork picks up dust and lint and dander and other particles circulating through the air. It only takes a year for a thin layer of debris to build up that will begin to affect the airflow. A few more years, and the impact of the dirty ducts will be severe, harming HVAC energy efficiency and keeping a reservoir of air pollutants to circulate. Professional duct cleaning thoroughly removes this build-up and gives the ducts a fresh start. We recommend scheduling this service every three to five years.
Duct Sealing
It doesn't take a large hole or gap in your duct to cause air loss and a subsequent drop in air pressure in the ventilation system. This damages the HVAC system's ability to evenly distribute hot and cold air. It also sends plenty of air that's already been heated or cooled into "nowhere zones" of the house like the attic and between the walls.
This is a massive waste of money. Duct testing tells us where to look for these air leaks, and we can seal them using professional tools such as mastic sealant and metallic tapes. (Note: store bought duct tape is not useful on ducts—we know, we know, we didn't name it.) Once your ducts are sealed, we'll test them again to ensure we solved the problem and you have an airtight ventilation system once more.
Duct Replacement
Finally, you may need a significant upgrade to the ductwork, not only because it is heavily damaged, but because it was poorly installed in the first place. This is an alarmingly common problem: many homes have inferior ductwork when constructed. Solving this problem, as well as handling ducts that are damaged past effective sealing, often requires duct replacement in Modesto, CA. We'll take care of problems with the older ductwork, such as improper sizing, which can lower or raise air pressure, too many turns and kinks, and ducts placed in areas exposed to temperature extremes.
You can relax when you place the job of improving your ventilation into our capable hands. We believe better health and energy efficiency can be achieved in any house, for any family, and we've dedicated ourselves to helping customers live green and save green!
Greenhart serves Modesto, CA and the surrounding areas with top quality duct services. Live Green, Save Green!