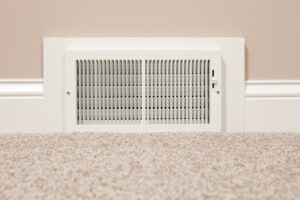 Are you considering a new heater before winter comes? Granted, it doesn't get that cold around our area in comparison to other parts of the country, but still, you want an effective and efficient heating system when you do need it, right?
And if your air conditioner is also on its last leg after all these heatwaves, you're probably left prioritizing which is more worth your money… replacing your air conditioner or your heater. What if we told you that you could do both, with one system?
We're talking about the heat pump! These are great systems that keep your indoor climate right where you want it, all year long. Read on as we uncover 3 of the biggest benefits of having a heat pump installed in your home.
1. Energy Efficiency
Heat pump systems are some of the most energy-efficient home comfort appliances you can get for your home. They use electricity to run and cycle refrigerant to heat your home. They use less energy than other systems do because instead of generating heat, they transfer it.
You can even take this a step further with a ductless system, which operates on heat pump technology. Ductless heating and cooling systems have individual air handlers and can be operated independently of one another.
2. Versatility
As we mentioned above, heat pumps are great at providing both heat and cooling. Thanks to their reversing valve, heat pumps are able to reverse the flow of refrigerant within the system. In the summertime, they draw hot air out of your home, and in the wintertime, they draw warm air from the outdoors.
They're actually perfect systems for climates like ours, where you have hot summers and relatively mild winters. As long as you have your heat pump professionally installed and well-maintained, you can count on year-round comfort, every year.
3. No Ducts Needed
For a standard heat pump, ducts are required. But like we mentioned above, there are also ductless systems on the market, that do not require ducts. Why does this matter? First off, it saves space! If you don't have the room for bulky ductwork, you can still have efficient cooling and heating.
Secondly, the individual air handlers give you the ability to heat or cool only one or two rooms at a time as needed, saving energy overall.
Call a Pro for Your Heat Pump Installation
Heat pumps are a great choice for many homes, but you always want to make sure you're working with a professional for its installation. Only a trained and experienced pro knows how to properly size a system (did you know too large of a system can be just as detrimental to efficiency as too small of a system?)
Additionally, there are components of HVAC systems that we have the knowledge and training to deal with, whereas a homeowner could unintentionally cause damage to the system or even injure themselves. Examples of these components include ductwork, and refrigerant.
For quality heating services in Modesto, CA and beyond, contact DeHart Plumbing, Heating, and Air Inc.