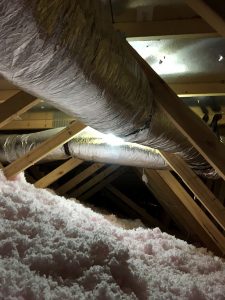 You may have heard cautions about duct cleaning, and some of these are well-founded. Unfortunately, there are many non-professionals who solicit homeowners to hire them for "duct cleaning." What they provide hardly merits the name—they can charge a low price because they don't do much work, and the ducts are rarely much cleaner afterward than before.
But duct cleaning is an important service that residential homes need done every few years. But the cleaning must be done by professionals who have the right tools. This isn't just a quick vacuum job that takes less than an hour. Professional and certified duct cleaners use powerful blowers to change the pressure inside the ductwork and agitate dust and other debris from the walls. A special vacuum system then removes the particles from the ventilation system. Separate rotary brushes are used to spot-clean areas around the house.
Why This Is Helpful
Professional duct cleaning is beneficial to your house in several ways. Here are the main reasons we recommend scheduling duct cleaning in Modesto, CA every few years.
HVAC System Efficiency: Even a thin layer of dust collected along the interior walls of flexible ductwork creates resistance against airflow. As dust, lint, and dander continue to build up inside ducts, the airflow resistance increases and causes the blower of the HVAC system to work harder and drain more power. Running the heater and AC in a home will become more expensive after years of missing out on duct cleaning.
HVAC System Longevity: The extra strain placed on the HVAC system from airflow resistance will cause the parts to age faster. Worse, all that extra dust and debris inside the ventilation system can get into the HVAC cabinet and cause damage to motors, the evaporator coil, and the heat exchanger. Cleaner ducts mean a healthier and longer-lived HVAC system.
Better Indoor Air Quality: Think of the ducts as a reservoir of dust and lint. It's not an easy place for you to clean, so unlike the rest of your home, the dust remains year after year. When the HVAC blower turns on, it sends out this debris into your home, where it circulates. This can make for a home that's dustier and which also can be unhealthy for people who have asthma and allergies.
When to Call for Duct Cleaning
Not certain if you need to have the ducts in your house cleaned? We recommend this service at least every five years, so if you've already lived in your house longer than that and haven't had duct cleaning yet, it's time. You can also make a visual check: open the register for one of the vents in your house, then put your hand down into the duct shaft and take a picture with your smartphone. If the image you see looks like a clogged air filter from a car, call us to schedule duct cleaning.
Our team has the top industry-approved tools for this job, and our technicians are experts at thorough duct cleaning.
Call Greenhart to schedule duct cleaning services for your home. We help you "Live Green, Save Green!"