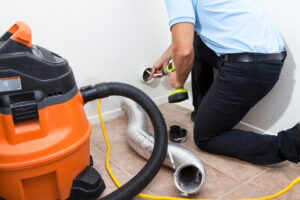 The ducts in your house are hidden from sight, so you won't have a good idea about how much dust, dander, lint, and other debris builds up inside them over the years. To give you an idea, a six-person home circulates on average 40 lbs. of dust through the ventilation system annually. Plenty of that will stay on the duct walls, and the more that collects, the more dust it will catch. This eventually leads to ductwork with so much build-up that it affects the energy efficiency of the HVAC system and adds to the amount of debris and allergens blown out into the air.
Professional duct cleaning will restore the ducts to near-pristine condition and help significantly to improve the HVAC system. But how often does your home need this service?
Setting a Regular Schedule (3–5 Years)
The most straightforward answer we can give is that most homes will benefit from duct cleaning every three to five years. If you've already lived in your home for five years or more, it's probably time to schedule the service with professionals. You may want to shorten the time between cleanings if you have pets in your household, which contribute to dander build-up; or if there are people in your household who have allergies or asthma, since clean ducts decreases the amount of allergy triggers in the air. When in doubt, you can always call us for advice.
When You Need It Right Now
We also recommend duct cleaning if you notice signs the ducts are extremely clogged. These signs include:
Abnormally high heating and cooling bills.
Dusty odors coming from the vents.
Dust build-up occurring more rapidly in the house.
A rise in allergy and asthma troubles.
There is a simple way to do a visual check on the ducts. Unscrew the vent cover from one of the room vents, then reach down into the vent with a digital camera or your smartphone. Take a picture of the duct interior. If what you see resembles a clogged car air filter, it's time to have duct cleaning done. Then you can relax for another three to four years.
Professional Duct Cleaning Services
Only professionals can handle this service, and we are the people you can trust for air duct cleaning in Modesto, CA. You may receive cold calls from people offering to clean your ducts for a startlingly low price, but this is a case of "you get what you pay for," which is nothing more than a few vacuum hoses shoved down vents and a job that only takes about an hour—because almost nothing was done.
Our team has the finest equipment to pressurize your ducts and agitate all the dust and other contaminants from the duct walls so we can remove them. We'll do spot cleaning with power rotary brushes as well to get to all the tough spots. Once we've finished, you'll have a ventilation system that will allow the heater and AC to work at top efficiency and your air will be cleaner as well.
Greenhart is your source for energy-efficient comfort and green home solutions in Modesto, CA and the surrounding areas. Live Green, Save Green!