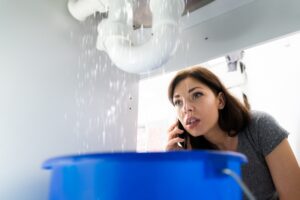 There are a number of problems that can befall a plumbing system over the course of a year. Fortunately, we don't live in an area that suffers from frozen and burst pipes too often, but that doesn't mean we don't experience our fair share of leaks, clogs, and the like.
We're always here when you need plumbing help, but we would like to help you prevent plumbing issues, too. The good news is, there are some pretty easy ways to do this. Some preventive steps include investing in plumbing maintenance, which we'll expand on below. Other steps don't require any money at all—just doing your due diligence.
Preventing Drain Clogs
Drain clogs are one of the most common and most insidious plumbing problems there are. When you have one, you're likely tempted to reach for the bottle of chemical drain cleaner you have stored underneath the sink. We actually discourage homeowners from using these at all, as they can do more harm than good. They're highly caustic, and eat away at the lining of your pipes, which leads to leaks later on. So, how can you prevent them?
Use Drain Covers and Screens: Things like soap scum, hair, and even small toys or objects get into the drains and cause blockages. You can stop most of these from going down the drains by putting drain covers and drain screens in. Covers are sold at hardware and home improvement stores while drain screens may require a bit more installation.
Keep FOG Out of the Kitchen Sink: FOG stands for Fats, Oils, and Grease and is the byproduct of cooking. When you put it down the drain, as many people due, it hardens as it cools off and creates clog problems. Instead, you should place FOG in a separate container that you can throw away in the trash.
Run Hot Water Down the Drains: Whether it's your kitchen sink, shower, or bathroom sinks, run hot water down the drain after every use. This makes it easier for things like soap scum, hair, and even cooking byproducts to make their way down and into the sewer line more easily.
Schedule Routine Plumbing Maintenance
Investing in professional annual plumbing maintenance is the best way to ensure that your entire plumbing system stays in good shape. Our recommendation is that you have this service done once a year. During a plumbing system tune-up, professional plumbers check for things such as:
Adequate water pressure
Leaks or spots where leaks may occur
Garbage disposal functionality
Backflow preventer check (this is not a required plumbing component in Modesto homes, but if your home has one it should be checked!)
General drain cleaning using drain snakes or a hydro-jet system
Water heater check
When you're ready to schedule your next plumbing maintenance appointment, look no further than our team. Our thorough inspections will ensure that all your home's pipes are safe and efficient.
For quality plumbing services in Modesto, CA and the surrounding communities, contact DeHart Plumbing, Heating, and Air Inc. today!