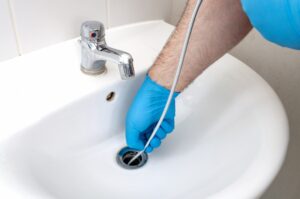 So, the time has come–many a homeowner has faced this problem–you've encountered a drain clog. This is certainly an inconvenience, but not the end of the world, right? You could just run over to the closest store, buy some store-bought drain cleaning solution and fix the problem quickly… except, you really shouldn't.
The fact is that store-bought drain cleaning "solutions" promise to work miracles on your plumbing system, but can actually do more harm than good. That's right "drain cleaners" can actually be detrimental to your plumbing pipes. If you have a plumbing issue–even if it's something seemingly minor like a clog–the best thing you can do is call a professional plumber. Read on to learn more about why!
The "Big Deal" with Using Store-Bought Drain Cleaners/Drain Openers
We get this question a lot… "What's the big deal with using a store-bought drain cleaner? Isn't this what they're for?"
As we mentioned above, store-bought drain cleaners can be detrimental to your plumbing system. They're created to provide a "quick fix" but too many homeowners use them as a long-term solution, utilizing them to relieve clogs in the same drains every 6 months to a year.
The chemicals in these "solutions" pour into the plumbing system and ultimately eat away at your plumbing pipes in addition to the grime, hair, and soap scum you bought them to clear out.
When you have a clog, you can't tell how big it is just from glancing down your drain, right? This is another issue… if the clog is fairly large, the store-bought drain cleaner you're pouring down the drain can get stuck in it and on it. Sure, it may eat through a bit of it, but you can actually end up causing a bigger clog that you'll have to call a professional plumber to resolve for you anyway.
Choosing Professional Drain Cleaning Services
Here at DeHart, we are skilled at clearing drain clogs without causing any subsequent damage to your plumbing system. Our plumbing services are thorough, and you'll never have to worry about how our cleaning service impacts the rest of your plumbing.
We have the right tools to clear out and clean your drains for you, and the expertise to back it all up. Even if you have your own drain snake or auger on hand, you'll want the experience of a professional to actually use this tool to be helpful, rather than harmful, to your plumbing system.
Any time you have a plumbing problem, whether it's a drain clog or a leak, we're your local team to call. We have seen the aftermath of many plumbing emergencies that might have otherwise been prevented if the homeowner had called us for service, to begin with.
Even if you think you're dealing with a very minor plumbing issue, it's better to be safe than sorry.
DeHart Plumbing, Heating, and Air Inc. is your trusted resource when you need a professional plumber in Modesto, CA. Contact us today!