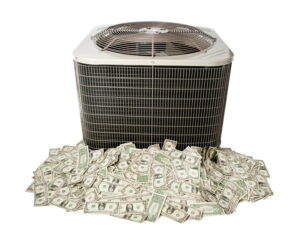 If there was one simple answer to this question, then customers would be much faster on the draw when calling for repairs, right? Imagine investing in air conditioner repairs like you would go grocery shopping, with prices being listed on a sticker.
Unfortunately, the world of AC repairs doesn't work like this, and it's not really anyone's fault. AC repair technicians need to diagnose a problem properly and have a conversation with customers before recommending a particular service. These systems can cost thousands of dollars, so it's not uncommon for air conditioning service in Modesto, CA to cost a large amount of money.
But this doesn't mean that you should be spending a thousand dollars for repairs on your 10-year-old air conditioner. There's a line when AC repairs shouldn't be too expensive, and we'll get into detail about what that line might be.
It Depends on the Kind of Service
The main reason why AC services don't have a flat cost is because of the components that could potentially be the source of the problem. If your air conditioner's compressor fails, for instance, that could be thousands of dollars to repair. At this point, a replacement might be a more reasonable choice.
However, if your AC is suffering from a different broken component (like a burnt-out electrical component or frayed wires), then it might only be a small cost to replace the part, plus the cost of labor. It's important to ask your prospective HVAC technician about whether this cost is worth it, and to match this cost to your budget.
Think About the Age of Your System
Air conditioners only reasonably last between 10-15 years in the best of cases. If your system is reaching the end of that lifespan, then most AC repairs are going to be too expensive to be worth it. Think about the long-term of your home comfort, and invest in repairs only when it makes the most sense.
Comfort, Convenience, Efficiency, and More
When evaluating how costly a repair is, take into account how happy the system makes you. If it barely works to your standards, consumes too much electricity, or keeps breaking at inconvenient times, then maybe a repair that costs a few hundred dollars just isn't worth it.
Our team can set you up with a replacement that absolutely is worth the cost and makes you happy to have around.
Look into Tax Credits, Rebates, and Promotions
If you're interested in saving money, then a replacement might be a better option than a quick system repair–not just due to the age of your system. There are programs available right now for homeowners to upgrade their home comfort systems to all-electric and energy-efficient units.
Start off by scheduling an appointment with a technician and asking them about the different programs that you might qualify for. We can walk you through each one, from savings that come from the new Inflation Reduction Act, to other manufacturer rebates designed to get customers to purchase the newest and most efficient HVAC systems on the market.
You might get a good deal on a new system regardless of the shape your old system is in, and sometimes that's absolutely worth it!
Schedule an appointment today or join the Love Club with DeHart Plumbing, Heating, and Air Inc.