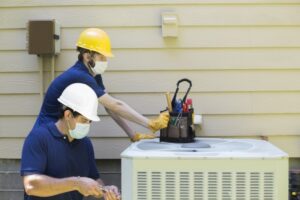 Has your air conditioner started acting a little out of whack? It might start off slowly at first. You might not even notice all the signs because you do not even realize that there is something wrong. Gradually, it can get to the point where your air conditioner breaks down entirely, and you are left wondering how you let that happen.
An air conditioner is one of the most important investments you can make to keep your home comfortable, especially considering how hot it can get here in Modesto. As temperatures begin to rise in California, your AC will be essential in keeping the indoor temperatures cool and comfortable.
To make sure that you can keep your AC in optimal condition, you need to call in professionals for air conditioning repair in Modesto, CA, at the first sign of trouble. Not sure what the signs are? This guide will help.
Signs Your Air Conditioner Is Struggling
Here are some of the most obvious signs that your AC is struggling and you need to call in someone for repairs.
Reduced airflow
Low airflow is the easiest problem to detect. If you feel that your air conditioner might be on the fritz, but you are unsure, all you need to do is stand in front of the air vents. You can immediately tell that the airflow is slow. This can be a sign of several problems with the air conditioner, including a clogged air filter, dirty coils, or a faulty blower motor.
Short cycling
Short cycling is the term used to describe when your air conditioner keeps turning on and off without completing a cooling cycle. Short cycling causes a lot of strain on your HVAC and makes it very inefficient. If you notice that your AC is short cycling, you should call someone in for repairs immediately.
It is making strange noises
Modern air conditioners produce very low sounds. The only sound you should hear coming from the system is the air whooshing through the vents. Any sound that seems close to humming, rattling, or screeching, is a cause for concern. Call in a professional ASAP if you hear any strange noises coming from your air conditioner.
Energy bills are going up
Your air conditioner might be providing you with proper cooling. It might not be making any strange sounds or short cycling. However, you should keep a close eye on your energy bills. If your energy bills keep rising despite similar usage each month, it is a sign that your AC is going out of whack.
When an air conditioner is not working properly, it becomes inefficient and uses a lot more power to provide the same amount of cooling. You should call in a professional to come and take a look at the system before it starts breaking down.
Your AC Needs Professional Help
If you think that your AC is out of whack or on its way there, you must not waste any time and call a certified HVAC professional for repairs. A professional technician has all the tools, knowledge, and training to properly identify and fix any problems with your air conditioner.
Hiring DeHart Plumbing Heating & Air Inc. means that you get access to some of the best professionals for air conditioner repairs in Modesto.
DeHart Plumbing, Heating, and Air Inc. is your trusted resource for any and all AC repairs. Contact us today!