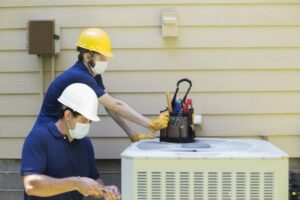 When it comes to maintenance, our customers and other homeowners assume that there is only one time to get it done, and if you miss that window, you have to wait until the following year. This is just not the case! Yes, we recommend air conditioning maintenance in the spring. The reason for this is because it's before you'll need your system the most, and because our HVAC technicians are generally less busy with emergency calls, so you can schedule your maintenance session at your earliest convenience.
But, unless your air conditioner has completely broken down and is beyond the state of repair, it's never actually too late to schedule AC maintenance. In fact, consistency matters more than the time of the year. It's important that an air conditioner receive a professional tune-up at least once a year. If you have a heat pump system, which operates year-round to provide you with effective cooling and heating, then this service should be done once every 6 months.
Why is this consistent service so important though?
Maintenance Reduces Repair Needs
It's true! Routine professional maintenance can reduce your air conditioning repair costs by as much as 85%. How does this work? Well, during maintenance, one of the things our technicians do is carefully inspect the entire system. We'll look for signs of wear and tear that can accumulate into much bigger problems, and stop them before they have a chance to escalate.
For example, let's say that you have worn down motor bearings. Motor bearings are the components on the motor that allow it to move and do its job. Over time, friction occurs, and the bearings will need lubrication as a result. This is something we check for during every maintenance session. But if you skip maintenance and this gets missed, then that friction can cause the motor to overheat and the entire system to unexpectedly break down.
Maintenance Helps the System Work Most Efficiently
Upon manufacturing, your air conditioner is given a SEER rating. SEER stands for Seasonal Energy Efficiency Ratio and it's a measurement of how much power your air conditioner consumes versus the output of cooling it provides your home. The higher the SEER rating, the more efficient the system is, and the less it will cost you to run month-to-month.
For every year you skip maintenance, however, your air conditioner can lose 5% of its original efficiency rating, meaning you'll see a spike in your utility bills. With maintenance, though, you can expect your system to retain about 95% of its original SEER rating!
Ask About Our Love Club!
This is our maintenance program that affords members a number of benefits in addition to those we mentioned above. These include:
A lifetime warranty on all repairs during your continuous membership without lapse.
Discounts on repairs and diagnostic fees.
Front-of-the-line service within 48 hours.
Hass-free maintenance scheduling and reminders.
And so much more!
Please don't hesitate to reach out to our team for more details.
DeHart Plumbing, Heating, and Air Inc. is your trusted resource for air conditioning maintenance and more! Contact us today.