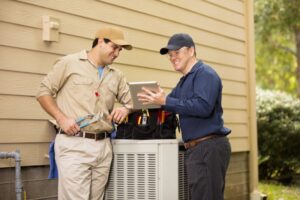 With summer right around the corner and temperatures rising, you might have realized that you're not sure if your air conditioner is ready for the heat. Fortunately, if you haven't scheduled maintenance yet, it's not too late! Skipping maintenance just because you "waited too long" this year to have it done will only exacerbate any problems you may have with the system.
You know that saying, "Better late than never"? It applies here! There are a variety of benefits to having professional maintenance done, and to being a member of our maintenance program. Read on to learn more.
Never Too Late
Professional maintenance is a service that any cooling system (or heating system) needs on an annual basis. That said, if you have a heat pump system that you use for both cooling and heating, then you should have maintenance done twice a year for tone system. But why does this matter so much?
Because Summer Doesn't Take a Break: If there's anything we're known for, it's our sunshine and nice weather. But what other people call "nice" weather can be sweltering hot to us. Sure, it's cute that people on the east coast are envious when it's 90° here on a winter day while they're in blizzard conditions. But heat can be as detrimental to our health and wellbeing as being too cold can.
The fact of the matter is, summer doesn't really take a holiday around here. So even if you don't think you need maintenance this summer, it's never a bad idea to have it checked on an annual basis anyway, considering how much work it goes through.
Because Skipping Maintenance Means Higher Energy Bills: In general, each year that your cooling system goes without professional maintenance, it loses about 5% of its efficiency, and the drop-off will get steeper over the years. You'll find yourself paying more for the times your AC system is running longer than it should have to because it's struggling to effectively do its job.
Because Maintenance Helps You Avoid Unnecessary Repairs: You do not need to spend money you should instead be enjoying over summer on air conditioner repairs that you weren't expecting. Even a simple precaution of a tune-up, no matter the time of year, can help prevent up to 85% of the repairs your system will ever need. This also drastically reduces the chance of a surprise, premature system breakdown.
Ask About Our Love Club Maintenance Program!
This is our maintenance program that affords members a wide range of benefits for their air conditioner and home cooling bills. The Love Club members get:
A lifetime warranty on all repairs during continuous membership without lapse.
Discounted diagnostic fees.
Front of the line service within 48 hours.
Discounts on repairs.
1 complete plumbing inspection per year.
2 complete HVAC tune-ups per year.
You'll also benefit from, as we mentioned above, a longer service life for your air conditioner (well-maintained systems can last 10-15 years while ill-maintained systems may only last half of that), less chance of an unexpected breakdown, fewer repair needs, and more efficient operation allowing you lower cooling bills.
Contact DeHart Plumbing, Heating, and Air Inc. today for professional air conditioning maintenance in Modesto, CA.