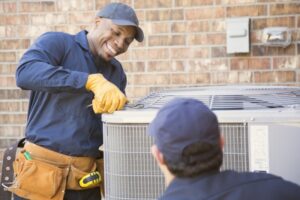 It's been nice to have some cooler days here and there in recent weeks. It's a sign that fall really is upon us, and we hopefully have some nicer weather to look forward to. Of course, you know as well as we do that we can still have warm, and even hot, temperatures going into the next few months, unlike our friends and family on the east coast or the midwest!
And so, it's important to be ready for anything. The best way to be prepared for warmer temperatures is to ensure that your air conditioner is well-maintained by a professional. Maintenance allows us to thoroughly inspect, clean, and adjust the components that need it, in order to ensure that your air conditioner works as efficiently and effectively as possible, for as long as possible.
Maintenance even helps reduce repair needs by as much as 85%! Of course, however, your system is still going to accumulate wear and tear. You will need to have repairs done every now and then. Read on as we uncover some of the signs that this is the case, and what those signs might mean.
Your Air Conditioner Is Making Odd Noises
Have you noticed a screeching sound coming from your air conditioner? The most likely culprit of this is worn-down motor bearings. The motor bearings are lubricated during manufacturing, and this lubrication helps all the moving parts function with ease. Over the years, however, the lubrication wears down.
When you hear screeching, it means there is too much friction on the motor bearings. This can, unfortunately, lead to your motor burning out, which is a much more expensive repair need (if not a replacement need) than having your motor bearings relubricated. So, be sure to give us a call right away if you hear this!
You Notice Low Airflow from the Vents
Fortunately, this might not be an air conditioner problem at all. It may just be that you have a clogged air filter.
The air filter that comes standard with your air conditioner and heating systems is in place to protect those systems from dust, dirt, and other debris that can get in and damage the sensitive components it needs to operate. This air filter should be changed–by the homeowner–every 1-3 months.
If it's not changed regularly, it can get too clogged up, and this restricts airflow coming into the system. And if there isn't enough air being drawn in, it cannot produce enough chilled air to push back out.
So first, check your air filter. Then, check to ensure your thermostat is set to "cool" and not "fan only" mode. if you're still having problems with airflow, it's time to dial our number.
You Notice Lukewarm Air from the Vents
This is a problem that may seem easy to brush off on a mild fall day, but when temperatures outside heat back up, you're going to wish you had this problem taken care of! A very likely culprit of this problem is a refrigerant leak. Refrigerant is the substance responsible for transferring heat and providing cooling to your home!
If your system is losing refrigerant at all, it means there is a leak that must be repaired. The faster it's repaired, the less likely you'll suffer from a complete system breakdown.
For professional air conditioning repair in Turlock, CA, contact DeHart Plumbing, Heating, and Air Inc.