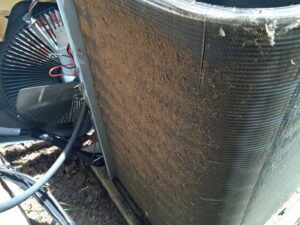 We encourage our customers to invest in energy-efficient heating and air conditioning equipment in Modesto, CA for their homes. The newest high-efficiency air conditioners can make a tremendous difference in how much energy a house uses and also helps the home lower its impact on the environment. 
We also recommend people upgrade to this new equipment because we know too many homes that keep their air conditioners far longer than they should. Letting an air conditioner sit in place years after it should normally retire leads to numerous problems and unnecessarily high costs. 
What Age is "Too Old" for an Air Conditioner?
Good question. The modern air conditioner has an average service life of 10 to 15 years. If an AC receives regular maintenance each spring to keep it tuned-up and cleaned, it can easily make it to 15 years. But an air conditioner that's more than 15 years old has reached retirement age.
We've often seen people who keep using air conditioners that are 20 years old or more. This isn't wise, even if the air conditioner is still putting out cold air. An air conditioner this old is in a danger zone and probably costs too much money to run as well as creating environmental damage.
The Many Troubles From an Ancient Air Conditioner
Here's why we recommend you have that 15+ air conditioning system replaced with a new, high-efficiency model:
Energy savings: Switching to an air conditioning model with a higher SEER rating (the efficiency rating) will help reduce your regular bills. The difference can be tremendous if the current air conditioner is extremely old. An aged AC can lose 25% or more of its original efficiency once it's more than 15, and that means paying a tremendous amount for no extra benefit. 
Approved refrigerant: Air conditioners manufactured before 2010 may use R-22 refrigerant, which is toxic and creates ozone-depleting emissions. R-22 has been phased out of use, so old R-22 systems can no longer have lost refrigerant replaced. We strongly recommend replacing any R-22 unit as soon as possible. You'll have a better system with a safer refrigerant and you won't have to worry about getting repairs done in case of a refrigerant leak. 
Bad indoor air quality: A dirty, dusty old air conditioner can end up harming the air quality in your house. Even regular maintenance can't stop the AC from making the air in your house less healthy.
Frequent repairs: Along with costing more to run, an aging AC will run up repair bills as well. The average air conditioner needs the most repairs during the last two years of its service life, and if an AC gets pushed past that time, it will need repairs almost every year just to keep running. A new air conditioner is a much better investment than to keep throwing money at a decrepit system to patch it up and keep it going. 
Environmental benefits: Even if your old AC doesn't have R-22 in it, the amount of power it drains to cool your home is wasteful for the environment in general. High-efficiency equipment lowers the dependence on power plants and can help a home go green.
Greenhart serves Modesto, CA. Call us to find out more about a new high-efficiency AC so you can Live Green, Save Green!