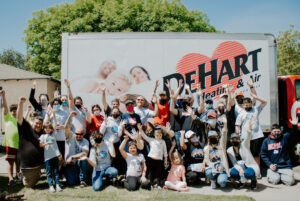 Get ready to nominate a family that deserves a whole home makeover! This spring, we're partnering with Love Modesto to give the gift of comfort to a family that deserves it. Anyone can nominate a family who is in need of a new HVAC system by clicking this link.
With our team, it's all about the love! We're major proponents of helping our community, and we're so excited to bring an amazing heating and cooling system to someone who could definitely use it. We're also accepting volunteers to help us clean and prepare for the system installation! From regular housekeeping to gardening, this is going to be a large family-friendly project that can include everyone, from neighbors to strangers.
Once a nominee has been chosen, Love Modesto will begin at 7:00 AM on April 29th, at the corner of I & 10th Street (in front of the Gallo Center). There will be a pancake breakfast, free refreshments, giveaways, kids' activities, and more! This is where volunteers can meet before the project gets underway and we'd love to see friends, neighbors, and customers show up to say hello and participate. Any additional information can be found here.
We love Modesto, and it's that time of year to give back to the community we care so much about. See you soon!
For any HVAC services or information, make sure you contact the professionals DeHart Plumbing, Heating, and Air Inc.