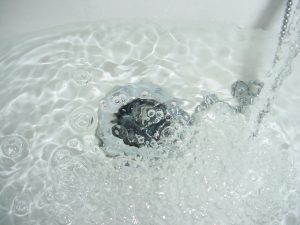 If you're like most homeowners, you probably don't think about the drains in your home very often. If we had to guess, we'd say you never think about them, until something goes wrong. You know, something like a clogged drain leaving you standing ankle deep in water in your shower.
Sometimes, you can take care of a clogged or slow drain on your own with nothing more than a plunger and a little bit of "elbow grease"? Sometimes it takes a little something more… like professional drain cleaning.
"Can't I just clean my drains myself?"
Before you reach for that bottle of store-bought drain cleaner consider this: These solutions are caustic, and actually do more harm than good to your plumbing system! Instead, you should call on a pro. But how do you know when it's time?
It's Time to Call Us for Drain Cleaning When…
There are two important times to call for professional drain cleaning. The first time is when you have a stubborn clog, as we mentioned above. As we also mentioned above, chemical store-bought drain cleaners aren't the answer. This is because they have the potential to damage your drainpipes, and can even cause injury since they're made of highly toxic chemicals.
Additionally, these "solutions" don't actually clean anything–they just eat a hold through an obstruction (like hair or soap scum) and then they continue to eat away at the lining of the pipe. Professional drain cleaning, however, clears out the blockage but actually cleans the drainpipe.
The other time you should call for professional drain cleaning is when it's been a year since your last drain cleaning. That's right, this should be a routine part of your plumbing maintenance. Just like your home's air conditioning and heating systems need routine care, so too does your plumbing system.
During professional drain cleaning, our staff uses powerful tools such as hydro-jets to not only clean the inside of your pipes but to reduce the chances of clogs building up in the future too.
During professional drain cleaning, our plumbers will get a close look inside your pipes by using special video camera equipment. If there are any places that need not only cleaning but also potential repairs, we can help get those on your schedule. It beats being surprised by emergency plumbing repair needs!
When you trust our professional plumbers for drain cleaning, you can count on a job done right. We use the most advanced equipment on the market and eco-friendly products to get the job done (oh yeah, in case we forgot to mention, chemical drain clears are awful for the environment, on top of everything else!)
If you haven't scheduled your drain cleaning appointment this year, or if you've never scheduled professional drain cleaning, there's no time like the present to do so. Give us a call for not only professional drain cleaning but for whatever your plumbing service needs may be! We also provide pipe repairs should we discover during maintenance that they're needed.
Contact DeHart Plumbing, Heating, and Air Inc. for professional drain cleaning in Modesto, CA.
Update: We are now offering plumbing services in Tracy!