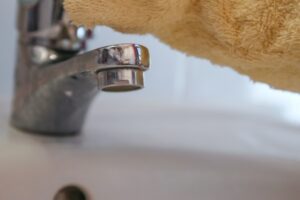 No water coming out of the fully opened tap?
Very few household issues are as bothersome and disruptive as no water in taps. If you have encountered this problem with any faucet in your house, follow the steps we will discuss here.
Check Other Taps
If there is no water in the tap, the first thing you need to do is to check other faucets and taps in the house. This situation results in two possible scenarios.
If other taps work perfectly fine, you should heave a sigh of relief because it suggests that your overall plumbing system doesn't have any problem. Check the tap if it needs a washer or full replacement.  If you don't know how to deal with a faulty tap, a reliable Tracy, CA plumber service can always help you.
The other scenario is water has vanished from all the tapes. It's a sign of concern because it points towards some bigger issue. You need to take the following steps in that case.
Check for Leaks
You need to have a thorough inspection of the entire water line and network in your house for any leaks. If there is a leak, you should call a plumber. The plumber won't just fix the leaks but also determine why there is water in taps.
Check for Blockages
If your property has old plumbing pipes, blockages in them due to rusting and sediment buildup can also be why there is no water in taps. Again, you need a professional plumbing contractor to identify those blockages and tell if they are the reason behind waterless taps.
Have a Look at the Main Water Valve
If your water main has an emergency shutoff valve, you should also have a look at it. Sometimes, the valve accidentally shuts off the water main to interrupt the supply to the entire house.
Ask Around
If there are no leaks and the water main is also working fine, you should ask around in the neighborhood about the water supply. If your neighbors face the same problem, you need to call the respective municipal office instead of a plumber.
Call a Professional Plumber
If you can't make out why there is no water in taps, don't waste time and call for the most seasoned plumbing contractor in Tracy, CA. A professional plumbing team will inspect your taps, your faucets, and other plumbing fixtures to pin down the exact reason why there is no water in taps. The benefit of hiring a seasoned and trustworthy plumber service is that they can identify the underlying issue in less time and suggest the most cost-effective fix for it.
DeHart Plumbing Heating & Air Inc. is an experienced and dependable plumbing service in Tracy, CA that you should call if there is no water in your taps. We also offer first-rate heating and air conditioning repair and maintenance services to both residential and commercial clients.
Schedule service with DeHart Plumbing Heating & Air Inc. today!