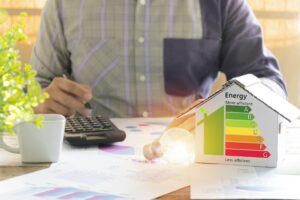 In our neck of the woods, the term "AC" can automatically make people think of spending a lot of money. The cool comfort of a functioning AC feels nice, but that good feeling is dramatically reduced when you think about the amount of money that the electricity is going to cost.
But that's where we come in! As your friendly neighborhood HVAC provider, we know about some great ways to reduce the energy consumption of your air conditioner and change the perspective you might have on how much money it should cost. AC doesn't have to be expensive, but having an energy-efficient air conditioner requires a few best practices that a homeowner needs to be involved in.
Remember, an extremely inefficient system requires air conditioning repair in Turlock, CA. So the more attention you pay now to your system and its efficiency, the better off you'll be in the future.
1. Change the Air Filter Regularly
The first and most important thing you can do for your air conditioner on a regular basis is change the air filter. The filter is responsible for catching contaminants like dust, debris, and other particles that float around your air. These can not only damage the interior components of the system, but they can cause your air to become harder to breathe.
If the air filter gets clogged, it can lead to a problem with the airflow through the system. This means that the air conditioner is going to work harder and put more stress on the components in order to cool the air in your home. Inevitably, it'll lead to two things–an expensive AC repair in the future or an increased energy bill as the system runs in longer cycles to do the same amount of work. That's not good.
Changing your air filter on a regular basis addresses these concerns while giving your system the best shot at running as efficiently as possible.
2. Get Your Air Conditioner Inspected
We talk a lot about AC maintenance on this blog, but there's an important additional benefit that comes from this service–the inspection. Maintenance always includes an inspection and this can do two things:
A technician's inspection can find any budding problems so that they're fixed promptly.
An inspection includes an efficiency evaluation. A technician can figure out how efficiently your system is running and why. This can lead to some minor adjustments or improvements that help it consume less energy.
Basically, with the help of an inspection, your air conditioner will have the attention it deserves to run more smoothly.
3. Keep the Vents Clean
Ventilation is an important aspect of cooling. Without proper ventilation, it's harder for you to feel the cool air created by your air conditioner, and your thermostat will signal to the system to keep running. This is bad because your home might otherwise feel cool and comfortable if your vents were opened up and cleaned.
Make sure you move any boxes, furniture, or even carpets away from your vents so that they have adequate access to your home's air.
Contact DeHart Plumbing, Heating, and Air Inc. for help with your home's energy efficiency.