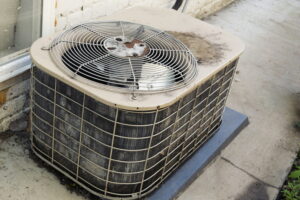 As the weather warms up during the spring and you can start to imagine the hot temperatures of summer, you may begin to consider your home's air conditioning system and wonder if you should keep it around. The AC may already be old (over 15 years) and ready to be replaced, or it might be already struggling to do its job and repairs are simply too expensive to justify.
Or … maybe you want an air conditioning system with higher energy efficiency because you know you're paying too much to run your current one.
If you're on the fence about making an AC upgrade this spring, we can help you with the air conditioning service in Escalon, CA to find a great solution.
Don't Keep an Old AC Around
Again, by "old" we mean a central air conditioner that's more than 15 years old. The average lifespan of air conditioners is between 10 to 15 years, so going over 15 is the point when the air conditioner is ready to go to the recycling yard and a new unit put in.
An over-the-hill AC creates numerous problems, with more and more repairs needed to keep it going, noisy operation, and a higher chance of an emergency breakdown. But these systems are also power-wasters and have a negative effect on the environment. Modern HVAC equipment has higher standards for energy efficiency, so an old system was probably not very efficient to begin with. And when an AC reaches the last few years when it will still run, it will begin to rapidly lose efficiency and drain sometimes 25–50% more power. It's simply not worth keeping an AC like this. The benefits of getting a new one are overwhelming.
The R-22 Issue
There's another concern with old air conditioning systems that make them prime candidates for replacement, and that's the refrigerant they use. For many decades, the standard refrigerant was R-22 (often called Freon, a brand name). However, R-22 has been phased out of use, and as of last year old R-22 systems cannot be repaired if they lose refrigerant. New ACs use R-401A refrigerant, which helps with energy efficiency and doesn't release ozone-depleting emissions.
Your older air conditioning system may use R-22. You can check by looking at the plate on the back of the condenser, where it will list the refrigerant type. If you have an R-22 refrigerant AC, we recommend scheduling a replacement as soon as you can, since you may be forced to replace it the next time it malfunctions because it will not be able to be repaired. The system is probably highly inefficient.
High-Efficiency Air Conditioning Systems
We specialize in high-efficiency air conditioners and have helped many homes upgrade to the best in energy-saving and environmentally friendly household comfort. We can help you navigate the choices for new AC equipment and find the right type to meet your needs and match your budget. Call us today and we'll be glad to help you find the right new AC for your house.
Call Greenhart for high-efficiency HVAC equipment in Modesto, CA and the surrounding area. Live Green, Save Green!