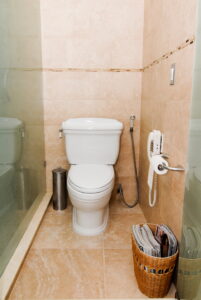 If it were up to us, your local and reliable plumbing professionals, we'd recommend that nothing aside from dishwater and other liquids end up down your drain. But in reality, it's never really as simple as that. Sometimes while washing a pan, you accidentally send grease down the drain when you aren't paying attention. It's not the end of the world when that happens, and we totally understand!
But the more often you protect your drain from these 5 contaminants, the less likely you'll need our team to provide drain cleaning in Stockton, CA.
Let's start by saying if your drains are clogged, then you should call our team for a quick drain cleaning job. We'll be in and out of your home in record time, and we'll do it all at an affordable price. But if you're just trying to protect your drains for the future, then keep reading to learn about the worst contaminants that will clog your plumbing system.
Paper Products
There's only one plumbing appliance that's built to take paper products, and that's your toilet. And, to be extra clear, the toilet is only designed to take toilet paper. This is a particular kind of paper that dissolves when exposed to water, basically making it able to melt into the liquid over time.
Paper towels, paper products, and toilet paper are not interchangeable and it's important to remember this. Flushing paper towels down the drain is not the same as flushing toilet paper down your toilet. Paper towels don't decompose and dissolve as quickly, and they're likely to soak up material and expand, leading to a clog.
Food Waste
For homeowners without a garbage disposal, no food is good for your drain. You're much better off using a mesh screen that can catch food waste so you can throw it out in the trash when you're finished cleaning the sink.
If you own a garbage disposal, there are some acceptable food items that can be flushed down the drain, but they need to be soft. Things such as fruit bits, skins, and peels are acceptable to be ground up by your garbage disposal for proper removal.
Hair
Depending on how often you use the bathroom, you're likely familiar with how much hair can get caught in a bathroom drain. Hair can easily get flushed down a drain by accident and will tangle and catch any small divots in your pipe.
Hair will align with soap scum and other materials to create a pretty nasty clog that's hard to get rid of. Most hair can be kept out of the drain with a mesh screen that catches it.
Toys
Your kids might love their bathtime toys, but none of them are designed to fit down a drain. It's important to remind your family that toys do not belong in the drain and any of them that get sent down there will usually need to be fished out by a plumbing professional.
Fat, Oil, or Grease
Last but certainly not least, are fats. These substances take liquid form when you cook with them, but they quickly solidify when temperatures drop. This makes them prime suspects for a drain clog since you'll see them head down the drain as a liquid but they'll quickly seize up and create a clog when you're not looking.
Dispose of these materials the right way–in the trash.
If you need help, you can schedule a drain cleaning appointment with DeHart Plumbing, Heating, and Air Inc.