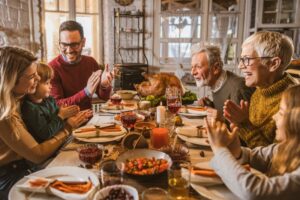 It's finally that holiday season when the warm smell of pumpkin pie or a roast bird wafts through your home's air. Our kitchens serve as a haven for our beautiful food and warm moments of joy with family and friends that we know and love. Isn't that just the best?
But while you're reminiscing on those wonderful moments, you might also be thinking about the disastrous ones. Like the time that your uncle decided to do the dishes and he started a clog. Or when your family stayed for the whole week and removed the mesh screen from your shower drain. Your plumbing system can handle the entire family using it, but it needs to be used the right way.
Here are some guidelines that can keep you and your family safe from a holiday disaster. Just remember that you can always call our team for a plumber in Turlock, CA if you need assistance!
Friendly Reminders to Your Family
While you might be an expert on the health and well-being of your drain, your family and friends might not be. Take this opportunity to remind anyone staying at your house of certain guidelines that are required for your plumbing system. Here are just a few:
Only flush toilet paper down the toilet. While some people might flush paper towels and other things down the toilets in their own homes, that should not be allowed in yours if you're trying to avoid a toilet clog.
Toys and objects don't go down the drain. It's never a bad idea to remind children that toys and objects should never go on adventures down the drain.
Only one person using a plumbing appliance at a time. Sometimes just the overall confusion of multiple people using a kitchen sink can lead to a clog. Try a rule of one person per appliance so mistakes happen less frequently.
Use Mesh Screens to Trap Contaminants
Mesh screens are an amazing tool when the family is staying over. They can catch hair and other things when multiple people are using your shower, but they can also catch food scraps when you're doing the dishes after a large meal. These will keep out solid or food waste from entering your plumbing system and gunking things up.
Keep a Plunger or a Drain Snake Handy
Plungers and drain snakes can be helpful in a pinch. You'll want to keep these tools handy in case a clog does form. Plungers use a powerful seal to pressurize your drain and remove clogs that way, while a drain snake uses friction and a bit of elbow grease to remove stubborn clogs. But if these don't work, you can always call our team for help.
Call for Support!
Our team is here to help! The whole point of this blog is to inform our customers, but also make them feel confident knowing that there's a team of licensed plumbers ready to help at a moment's notice. We've got industrial plumbers and drain snakes, as well as hydrojet systems that easily remove any clogging material you might be dealing with. All you need to do is call when something is wrong!
Schedule a quick holiday plumbing appointment with DeHart Plumbing, Heating, and Air Inc.