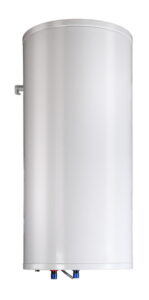 For decades, the standard water heater in homes has been the storage water heater, also called a "tank" water heater for obvious reasons: it stores water in a large tank, where it's kept heated either by natural gas jets or in-tank electrical heating elements.
There is nothing disastrously wrong with these standard water heaters, but homeowners looking for something different to cut down on energy consumption might wish to look into a heat pump water heater. These models of water heaters still use tanks, but take a different approach to how they heat the water in them.
We'll explain how a heat pump water heater works and then see if it's a worthwhile investment for your home.