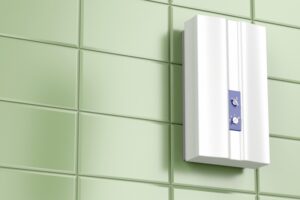 Water heaters are one of those home comfort systems that are relatively easy to take for granted, even though they are one of the appliances we rely on the most. Could you even imagine being without hot water for showering and all the other needs a modern household has?
When it comes time to replace your water heater–yes that's right, no water heater lasts forever–then you'll want to do your due diligence in exploring your options to make sure you have the most efficient system possible.
The two main options to choose from when selecting a water heater are the tank water heater and the tankless water heater. You may have heard a lot about the tankless system in recent years, as it is growing in popularity. It's become an ultra-efficient option for many homeowners! However, that doesn't necessarily mean it's right for every home and situation. Read on as we uncover the differences between these systems, and give us a call if you want help making an educated decision between the two.