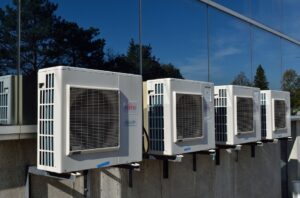 It is true that regular maintenance and careful use can extend the life of your air conditioner a great deal. However, there comes a time when even the best ones have run their course and it is just not cost-effective to keep repairing them.
Your decision to replace your old AC unit is always a tough call, mainly because you have to invest so much time and money into it. But at the same time holding onto your old air conditioner isn't wise either.
Here are the tell-tale signs to know when it is time to say goodbye to your old AC system!
It Is Old
An average lifespan of an air conditioner is between 10-15 years. While regular maintenance might help it to last a bit longer, it will reach the end of its life by this time. If your AC unit has been requiring more repairs lately, it is likely it is worn out. Therefore, it's important to remember if the repairs are costing you 50% or more than the cost of a new AC, it is time to find a reliable HVAC contractor in Modesto, CA.
It is Costing You More Money
Another sign to keep a close eye on is your monthly utility bills. If you are noticing a constant increase in your energy bills with each passing month, know that it is time for AC replacement. The sudden hike in electricity bills should tell you that your air conditioner is inefficient. So investing in a new AC unit would be adequate to cut back on your monthly bills.
It is Never Cooling Enough
The declining performance of a well-maintained air conditioner is another clear sign that it is time to say goodbye to your old unit. Remember that if the unit has always needed repairs frequently, it is possible that it was a bad purchase decision or an improperly installed unit. But if the repeated breakdowns only new then it is time for a replacement.
Bottom Line
The key to your summer comfort is regular maintenance and repair of your air conditioning unit. However, if it has started to cost you an arm and a leg, yet it is still lacking, know that it is time to replace it. In fact, putting up with an old faulty unit is likely to cost you even more than buying a new one.
If the time has come for a replacement, don't put up with a faulty unit anymore. DeHart Plumbing Heating & Air Inc. is an HVAC contractor in Modesto, CA to help you with all of your heating and cooling needs.
Schedule Service with DeHart Plumbing Heating & Air Inc. today!