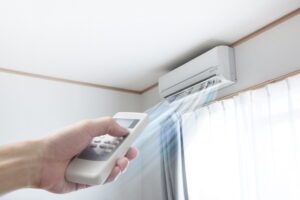 When it comes time for you to choose a new air conditioning system for your home, there are so many options to choose from, right? To make sure that your AC system of choice works as effectively and efficiently as it is meant to, you'll need to ensure that you work with a professional to find one that fits your specific home and budget.
One of the options you'll find in your research is the ductless HVAC system.
Rather than utilizing a system of air ducts to function–connected to a single indoor air handler and outdoor unit–a ductless system does not use ductwork. It's comprised of a single outdoor unit and up to 4 indoor air handlers, which can be discreetly mounted up on the walls in the rooms where you need cooling (or heating).
If you already have a ductless system, you're familiar with this concept. If, however, you aren't a ductless owner yet and you're considering it, then you should learn about the unique needs your system may have.
What Makes Ductless Systems Different?
There are a number of benefits, as we mentioned above, to using a ductless system for your cooling needs. There are also some unique qualities of these systems. They're not bad qualities, necessarily, but rather factors to be aware of.
The primary reason it's important that you're aware of what makes a ductless system different is so you'll understand just how important it is that you have the system installed by highly trained and experienced professionals. Read on to learn more about their unique needs.
Water Leaks behind the Air Handlers
Each of the wall-mounted air handler units connected to the outdoor unit has a conduit routed through the drywall behind it. This conduit contains the power cord, refrigerant, and a condensate line. The condensate line is charged with removing water moisture from the cooling process so it doesn't enter your property instead.
However, if not properly installed or cared for, this line can spring a leak. If this occurs, and water is allowed to begin developing between the air handler and the wall, then the material of the wall will start to weaken, until it causes the air handler to rip away, and fall off. Of course, this damages your property, and will potentially break the air handler, too.
Broken Air Handler
There's some good news and not-so-good news when it comes to a broken air handler. The bad news, of course, is that a broken air handler means no cooling in that particular room. The good news, though, is that if just one air handler breaks down due to a failed motor or some other isolated issue, the remaining air handlers throughout the home will still continue to operate.
The only portion of your home that loses cooling, in this case, is the room that the broken air handler is in. You'll still want to call for repairs, but you don't need to worry about your whole house losing out on comfort just because of an air handler.
Refrigerant Leaks
Okay, so this problem isn't unique to only ductless systems. But what makes the problem unique in a ductless system is that refrigerant runs through that conduit we mentioned before. This means that you could potentially have refrigerant leaking into your home, which is unhealthy at best.
The best way to avoid refrigerant leaks and the other problems we mentioned above is to have your system expertly installed, maintained, and repaired by an experienced team.
DeHart Plumbing, Heating, and Air Inc. is your trusted resource for quality ductless air conditioning services in Modesto, CA and the surrounding communities. Contact us today!