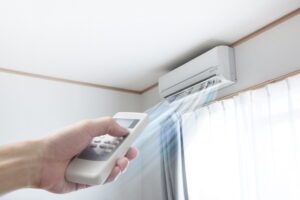 When it comes time for you to choose a new air conditioning system for your home, there are so many options to choose from, right? To make sure that your AC system of choice works as effectively and efficiently as it is meant to, you'll need to ensure that you work with a professional to find one that fits your specific home and budget.
One of the options you'll find in your research is the ductless HVAC system.
Rather than utilizing a system of air ducts to function–connected to a single indoor air handler and outdoor unit–a ductless system does not use ductwork. It's comprised of a single outdoor unit and up to 4 indoor air handlers, which can be discreetly mounted up on the walls in the rooms where you need cooling (or heating).
If you already have a ductless system, you're familiar with this concept. If, however, you aren't a ductless owner yet and you're considering it, then you should learn about the unique needs your system may have.