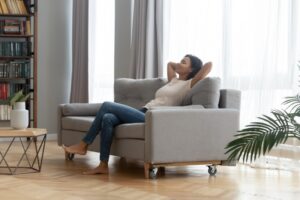 While there may be an end in sight, there is no denying that homeowners today are living in a unique and unprecedented time. COVID-19 has opened up questions for many consumers—do you have the right products at home to keep you not only comfortable but also healthy and safe? Are you doing everything in your power to protect your family?
Lennox understands these questions! As an essential business, Lennox felt and fulfilled a responsibility to help homeowners feel confident in their home products with the addition of important indoor air quality systems such as the PureAir S and the Healthy Climate PureAir Purification system.
Homeowners often don't realize that their indoor air quality products, or lack thereof, have a huge impact on their health. We'll talk more about the above-mentioned products here, and provide some tips to take care of your air, and therefore your family's health.
High-Quality Lennox Products
There are many air quality products on the market today, and most of them remove minimal germs and/or attack odors. This is, of course, an important part of home comfort and health. However, in today's climate, you need a bit more. You need products that will effectively eliminate most viruses and bacteria from your home as well.
The Lennox PureAir S Air Purification System: This is a smart whole-home solution to improve your indoor air quality. It uses a filter and UVA light to rid your indoor air of particles, germs, and odors. Additionally, it removes or destroys 90% of flu and cold viruses, infectious bacteria such as MRSA, and other living microorganisms down to 0.01 micron.
Lennox Healthy Climate Filters: These high MERV (Minimum Efficiency Reporting Value) filters are designed to provide minimal restriction to airflow while trapping 99.97-99.00% of indoor pollutants that include pollen, pet dander, and smoke, in addition to other germ-carrying particles.
Protect Your Air
Aside from ensuring you have the right products in place to protect your indoor air, there are steps you can take to keep you and your family healthy.
Keep Your Air Circulating: Even if it's a mild enough day not to use your air conditioner, you still want to keep air circulating throughout your home. You can do this by turning on the "fan-only" mode on your thermostat, by utilizing ceiling fans, and by opening doors and windows on opposite ends of your home to create a cross-breeze.
Replace or Upgrade Air Filters: The air filters that come standard with your HVAC systems aren't there to protect your indoor air quality. Instead, they're in place to protect the HVAC system itself from getting too much dirt and grime buildup on its components, which can lead to system inefficiency. For true whole-home air filtration, you'll want to invest in some type of high MERV air filtration system and/or air purification system. Our team can help you assess your home's specific needs and help you make an educated decision about what might be best.
Learn more about the Lennox PureAir S and the Healthy Climate PureAir Purification systems today by contacting DeHart Plumbing, Heating, and Air Inc.