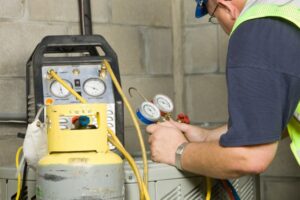 At Greenhart, we have a special focus that sets us apart from many other heating, air conditioning, ventilation, indoor air quality, and water heater contractors: we are committed to energy-saving solutions that not only help customers' finances but also benefit the environment. We are BPI, Green, and EPA-certified, and we're passionate about our dedication to both the environment and helping our customers "Live Green, Save Green!"
This is why the subject of the change in refrigerants in air conditioning systems is an important one. You may not be aware of it, but a major shift over the last twenty years altered the design of air conditioners to reduce their negative effects on the environment. You may have an older air conditioning system from before this change, and if so, we strongly recommend working with us to install a new, high-efficiency air conditioning system in Modesto, CA.
The R-22 Phaseout
The change that occurred in air conditioning technology was the gradual phaseout of the refrigerant blend R-22, a hydrochlorofluorocarbon (HCFC) that was the dominant refrigerant used in residential and commercial air conditioning systems for decades. This refrigerant is also known by the brand name Freon, which has caused some confusion because "freon" is often used to refer to any refrigerant.
Because R-22 produced ozone-depleting emissions, a gradual phaseout of use started in the US and the rest of the world according to the Montreal Protocols. As of 2020, R-22 refrigerant is no longer produced and remaining stockpiles and recycled R-22 can no longer be used to repair broken air conditioning systems. Production of R-22 refrigerants was halted in 2020, although productions had already slowed before that point.
Several different refrigerant blends replaced R-22. In residential and commercial air conditioning systems, a blend called R-410A (or Puron, its brand name), became the new standard. Old R-22 air conditioning systems cannot use R-410A because of the difference in pressure, so R-22 units need to be replaced with newer models that use R-410A. 
What This Means for You
You probably already have an R-410A air conditioning system. You can easily check by looking at the nameplate on the condenser, where the refrigerant type is listed. If you do have an R-410A air conditioner, you don't need to worry about your refrigerant type, although you still may wish to upgrade to a high-efficiency system if your unit is more than 10 years old. 
If you have an old R-22 air conditioning system, we urge you to call us as soon as possible to arrange for a new system installation. If your AC starts to leak refrigerant, which is a common problem for older air conditioners, you can't have the system repaired. Along with being bad for the environment, R-22 is also toxic, flammable, and has a lower cooling capacity than R-410A. Making the change to a new AC is an all-around benefit for you and the environment.
If you want to know more about the R-22 phaseout and your current air conditioning system, call our experts. We can help you achieve the best in an energy-efficient home through the finest in new appliance technology.
Look to Greenhart: Live Green, Save Green!