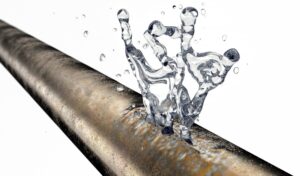 Just like any other component that helps provide comfort and modern conveniences to your household, your plumbing system wears down over time, with some material types aging more quickly than others. This means that at some point during your homeownership, particularly if your home is more than a few decades old, you're likely to need pipe relining, plumbing repair, or perhaps even complete home repiping. This is a complex job. However, our professional plumbers are very familiar with the work it entails, and we'll be able to manage it for you with ease!
Additionally, you will benefit in many ways from whole-house repiping. First of all, you won't need to worry about any sudden plumbing leaks or repair needs for years. Of course, the inevitable plumbing problem doesn't seem so inevitable if you haven't experienced one yet, right? And we absolutely understand any hesitance in investing in a large plumbing project.
But managing your repiping needs as soon as you can will help you avoid many potential issues, such as higher water bills, potential property damage from leaks, and more. But how do you know if you need repiping? We've provided some guidance on that question below.
Consider the Age of Your Home
The age of your home's plumbing system–often this means the age of your actual home–is the first indication of whether or not you need new piping. A home built prior to the 80s that hasn't had any plumbing upgrades in that time is a pretty big contender for repiping. A 40+-year-old home like this is likely to have been built with cast iron or galvanized steel pipes, which are both susceptible to corrosion. In the best-case scenarios, these plumbing materials can last about 50 years, but it's best to have this managed sooner rather than later.
It's important to remember, too, that iron and galvanized steel aren't the only materials prone to potential damage. Polybutylene plastic plumbing pipes, used in the late 80s and throughout the 90s, can become brittle and start cracking over time.
Consider How Often You Have Leaks
If you've ever schedule professional leak detection performed in your home, which we recommend that homeowners have completed every few years, and your plumber found several hidden leaks or potential for leaks, then it's definitely a sign that your pipes are degrading and need some help–maybe even an upgrade.
Sure, you can call a plumber for repairs every time you spring a leak, but this isn't exactly a cost-effective solution, right? Additionally, you may not even know about a leak until it has already caused significant property damage in your home.
Higher Than Usual Water Bills
Water bills are usually on the lower end when it comes to your overall utility usage, right? So if you look at yours one month and all of the sudden it seems a lot higher than usual, it's definitely cause for concern. This could mean you have a hidden leak somewhere that is causing water to escape from your plumbing system somehow, and it's a problem you want to have checked right away. If multiple leaks are found during our inspection, it's a good sign that you could use repiping services.
Contact DeHart Plumbing, Heating, and Air Inc. for professional Modesto plumbing services.