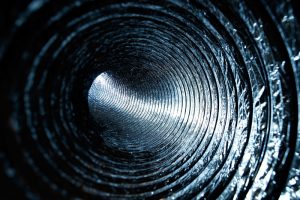 It's our job to help homeowners live green and save green. We're one of the fastest-growing companies for helping people in Modesto enjoy healthier indoor lives while improving energy efficiency. That's what going green is all about.
"So what does any of that have to do with duct sealing?" you might ask. Plenty! People often take their ductwork for granted when it comes to making green improvements on their homes, instead of focusing on the installation of air purifiers, energy recovery ventilators, and insulation improvements. But sealing leaky ducts is an essential step toward making an energy-inefficient house into a super-green money-saving machine.
The Problem With Leaky Ducts
Because you can't see most of the ductwork in your house (nor do you want to), you won't know how easy it is for the ducts to begin to leak air. Age, corrosion, insects, high air-pressure, objects moved around in the attic … all of these can lead to small air leaks starting in the ducts. And small leaks can create big problems:
Air loss: You can lose around 30% of the air moving through the ventilation system to these leaks. This means that air you've already paid to heat or cool is going to waste in closed-off sections of the house. Do you want to spend 30% of the money you use for the air conditioner to cool down the attic? Probably not, but you may be doing just that if you have leaky air ducts.
Extra wear and tear: Losing that much air from the ductwork means the heater and AC must put in extra work to replace it. Yes, that's expensive; but it's also extra strain placed in the HVAC system. The additional wear and tear will take years off the system's lifespan and lead to additional repairs.
Weak airflow: The air pressure inside the ducts drops because of leaks, and this means low airflow coming from the vents. You'll notice hot and cold spots around the home and a noteworthy decline in comfort because of compromised ducts.
Dirty air: Plenty of dust and debris can enter the ducts through these leaks, leading to a drop in air quality. The leaks also allow more humid air into the ventilation system, which not only affects comfort, it can lead to mold and mildew growth.
Duct Sealing to the Rescue!
You can see from the list how much trouble you'll stop with sealed ducts. You'll have healthier air, more energy-efficient HVAC equipment, and better comfort. Leaking air ducts are one of the principal problems our experts look for when we conduct a home energy audit—there are few places where a house wastes energy faster than through a leaky air duct system.
We offer duct sealing in Modesto, CA using the best tools. We can test your ducts and use special video camera inspection equipment to ensure we locate all the leaks and have them sealed up. Ask about a full energy audit for your house, and we'll find the best ways that you can live green and save green.
Call Greenhart for duct sealing and a No-Charge Home Comfort Profile. Live Green, Save Green!