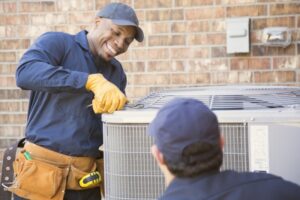 It's been nice to have some cooler days here and there in recent weeks. It's a sign that fall really is upon us, and we hopefully have some nicer weather to look forward to. Of course, you know as well as we do that we can still have warm, and even hot, temperatures going into the next few months, unlike our friends and family on the east coast or the midwest!
And so, it's important to be ready for anything. The best way to be prepared for warmer temperatures is to ensure that your air conditioner is well-maintained by a professional. Maintenance allows us to thoroughly inspect, clean, and adjust the components that need it, in order to ensure that your air conditioner works as efficiently and effectively as possible, for as long as possible.
Maintenance even helps reduce repair needs by as much as 85%! Of course, however, your system is still going to accumulate wear and tear. You will need to have repairs done every now and then. Read on as we uncover some of the signs that this is the case, and what those signs might mean.