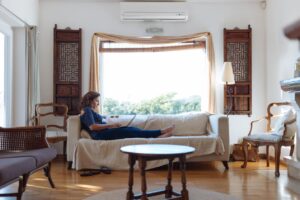 The most common type of HVAC system typically uses ductwork and vents. But lately, the ductless systems have quickly gained popularity as they are smooth running and quiet systems.
Regardless of how remarkable ductless systems can be, they are just as susceptible to wear and tear as any other climate control system. And much like other systems, the best way to keep HVAC problems at bay is to keep an eye out for warning signs. The sooner you identify the signs and get repairs, the more damage you can avoid.
Here are some telltale signs that indicate that your ductless system needs repairs without delay!
Malfunctioning Air Handler
Air handlers, also known as blowers in your ductless system often malfunction without coming into notice. It could be as a result of a number of problems and most goes ignored as it does not have much affect on your comfort. While the other air handlers in your ductless system might be working just fine, you must get air conditioning repair in Stockton, CA to keep the problems from piling up
Refrigerant Leaks
Refrigerant leaks are a threat for any type of air conditioner, but it could be especially damaging to a ductless system. This is because there are more refrigerant lines running to the handlers, in your house.
So always look out for any warning signs of refrigerant leaks. This includes an unusual drop in cooling from the system or the evaporator coil freezing over. If you delay the repair, your ductless system becomes more susceptible to a complete system breakdown.
Water Leaks
The air handlers of a ductless system has various connections through a hole behind them. This includes a refrigerant line, a power line, and a condensate line. The condensate line, in particular, removes any water that collects due to the cooling process, and prevents it from entering your home. If there's a leak in condensate line and the water can begin to collect between the back of the air handler and the wall. Whether the water leaks or pools and weakens the materials within the air handler, it can cause serious damage to the unit.
Why Choose DeHart Plumbing Heating & Air Inc.
Do you suspect a problem in your ductless air conditioner? Call us for an inspection right now. In most cases, a timely repair can protect your from the cost and trouble of serious damage to your unit.
If you are looking for air conditioning repair in Stockton, CA, call DeHart Plumbing Heating & Air Inc. and let us take care of your ductless HVAC problems. So don't delay your ductless repairs even if your system is not currently in use.
Schedule Service with DeHart Plumbing Heating & Air Inc. Today!